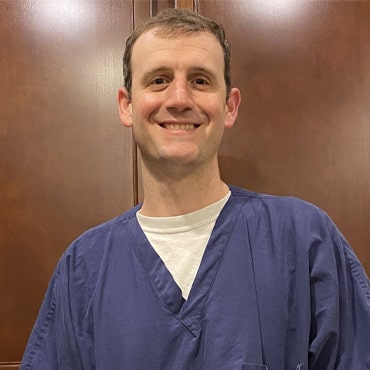 Dr. Eric Hunt was born and raised just outside Scranton, Pennsylvania. He graduated from the University of Scranton with honors earning degrees in Biochemistry and Philosophy. He received his Doctor of Dental Medicine with honors from Temple University's Kornberg School of Dentistry. He then completed his pediatric residency at St. Christopher's Hospital for Children, where he was Chief Resident in his second year.
Dr. Hunt is a diplomate of the American Board of Pediatric Dentistry. He is also a member in good standing of The American Academy of Pediatric Dentistry, The American Dental Association, The Pennsylvania Dental Association, and The Montgomery/Bucks Dental Association.
Dr. Hunt truly loves being a pediatric dentist and thinks of each patient as he does his own children. He is both honored and humbled by the awesome responsibility of getting to care for young patients while helping to mold his patient's perceptions of what it's like to go to the dentist. He is a major proponent of preventive and conservative dentistry. His goal with each patient is for a positive dental experience, which will hopefully lay the foundation for a lifetime of good oral health.
Dr. Hunt currently resides in Blue Bell, Pennsylvania with his wife, daughter, and son. In his free time, Dr. Hunt loves spending time with family, running, music, cars, and traveling.