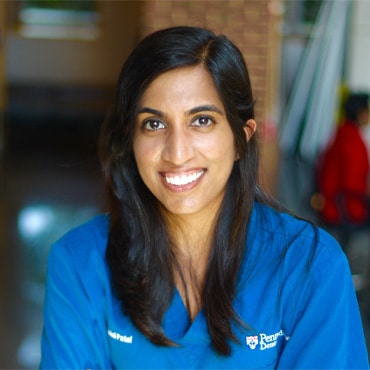 Dr. Shalini Patel is a board-certified diplomate of the American Board of Pediatric Dentistry whose favorite part of her job is being the foundation of her patient's dental experience and teaching healthy habits early on.
 "Dr. Shalini" was born and raised on Long Island, NY. She attended the University of Maryland for her undergraduate studies and then went on to receive her Doctorate in Dental Medicine from the University of Pennsylvania. From there, she completed one year in a general practice residency at Brookdale Hospital (where she met her husband) followed by two years in a pediatric dental residency at BronxCare Health System, serving as chief resident. Her training has provided her with experiences in all scopes of pediatric dentistry including behavior management, treatment under nitrous oxide and sedation, dental trauma, as well as comprehensive treatment of special needs patients.
When not in the office, Dr. Shalini enjoys spending time with family and friends, trying new restaurants, traveling, and watching reality tv. She is excited to be moving back to the Philadelphia area with her husband and their dog, Emmy, making it their new home!